Belgian biggest taxi dispatchers build on taxi.eu
Digital taxi-hailing service in Brussels, Antwerp, Zaventem, Kortrijk and Ghent
Application in twelve European countries based on 145 taxi dispatch centres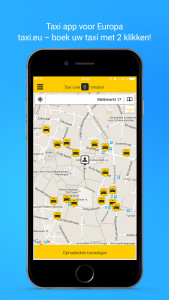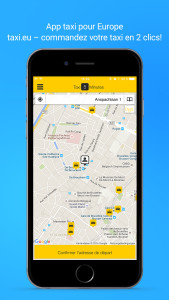 Brussels/Antwerp/Kortrijk/Ghent, 3rd February – The biggest taxi dispatchers from Belgium, namely from Brussels, Antwerp, Zaventem, Kortrijk, Boom and just recently Ghent are joining forces by connecting with the international taxi-hailing app taxi.eu. By implementing a digital service to their already rich portfolio of services, the Belgian dispatch centres are repositioning themselves as a competitor to purely digital providers. "We are combining our strengths of a reliable taxi service that our customers expect, with the new possibilities of a modern application. At the same time, we merge the local strengths of individual companies into a national and international service", explains Pierre Steenberghen, General Secretary of the "Groupement des Entreprises de Taxis" (GTL).
DTM Taxis and Antwerp-Tax in Antwerp, Taxis Autolux, Taxis Verts and  Unitax in Brussels and VTax in Ghent, Rupel Taxi in Boom and VTC Taxis in Kortrijk provide together the taxi.eu service in Belgium. While the digital service is expanding, the traditional telephone dispatch services will further exist to cover all customer needs– e.g., if the passenger has a special request that is impossible to cover with an app.
taxi.eu is already live in Brussels, Ghent, Antwerp and Kortrijk.  The taxi-hailing service is already active in 12 European countries. In the Benelux Union, cities such as Amsterdam, Rotterdam and Luxembourg City are highlighting the network. Cities close to the border, such as Aachen, Dusseldorf and Cologne are only one of many German cities using the service.
The popular app already registered over three million downloads throughout Europe. The taxi-hailing app was developed by the taxi industry in order to meet customer needs. The network connects users with more than 145 taxi dispatch centres in above 100 cities. More than 62,000 taxis and 160,000 taxi drivers in 12 countries currently operate for taxi.eu. In all those countries, taxi.eu cooperates with the dispatch centres and taxi companies in accordance with the legal regulations.
Quotes from the companies:
"We have continuously developed since 1929, when we started out with Minerva Cars. The taxi.eu app meets the need of our passengers for a reliable taxi service at any location with just a single app – here in Antwerp or anywhere throughout Europe", says Koen Van Oorschot of Antwerp Tax.
"We have a fleet of more than 100 vehicles and 220 employees, which allows us to meet the needs of our customers. The app service is a future-oriented addition", says Steve Van Avermaet, Chief Executive Officer at DTM Antwerp.
Taxis Autolux in Brussels is one of the biggest companies in the Belgian taxi sector, but even them opted to join forces with a standardised European smartphone app: "Every customer wants just one app with as many products and services as possible. This is the need we are addressing all over Belgium, with partners in the neighbouring countries and throughout all Europe", says Rudy Claude, Commercial Manager at Taxis Autolux
"As a region, Brussels is a melting pot of different local languages as well as the centre of Europe. An international app customers already use in Berlin, Copenhagen, Prague and other cities is highly appreciated here", says Thierry Willekens, Commercial Director at  Unitax.
"Taxis Verts is happy to contribute to strenghten taxi.eu partner network in Belgium. taxi.eu further deployment is another strong proof of innovation in the Belgian taxi industry», says Jean-Michel Courtoy, Managing Director at Taxis Verts in Brussels.
VTax in Ghent is also part of the international network of the taxi.eu hailing app. "We are moving with the times and have joined the most performant network: taxi.eu. As a service provider, we know what our passengers want", says Koen Van Cauwenberge, CEO, at VTax.
GTL – (French: Groupement national des entreprises de taxi et de location de voitures avec chauffeur; Dutch: Nationale Groepering van ondernemingen met taxi- en locatievoertuigen met chauffeur)
GTL is the national taxi federation, representing taxi companies in Belgium. The federation includes approximately 280 companies or associate members in Belgium:  taxi companies, limousine services, airport shuttle fleets, non-emergency medical transportation companies (cars up to 8 passengers). It represents about 80 % of the market in Belgium.
taxi.eu
taxi.eu is operated by the FMS Systems GmbH, located in Berlin and Vienna. The managing directors are Hermann Waldner and Michael Weiss. Both partners have contributed their many years of experience in dispatch and software development to the project development.
taxi.eu currently cooperates globally with various taxi dispatch centres in more than 100 European cities. 62,000 taxis and 160,000 taxi drivers can now be intuitively called via the taxi.eu app. In 4,500 cities, the app directly connects with the closest regional taxi dispatch service.
The application taxi.eu relies on the IT-based, state-of-the-art fleet management of the provider FMS, which is used by a great number of taxi dispatch centres all over Europe. The app regularly receives superb test scores, especially in terms of its distribution, the multitude of features and the ease of use.